Keep your Customer Service Always at the Top
With Salesforce Service Cloud a company's customer service is sure to be top-notch in times of both, regular circumstances and during a crisis. The Service Cloud allows businesses to offer 24×7 customer support and equips customers with all the necessary tools and options they need for query/complaint resolution in record time. Contact us today to implement the most complete customer service platform.
The key to Service Cloud unlocks

Faster, Smarter Customer Service – Omni-Channel Support – Increased Agent Productivity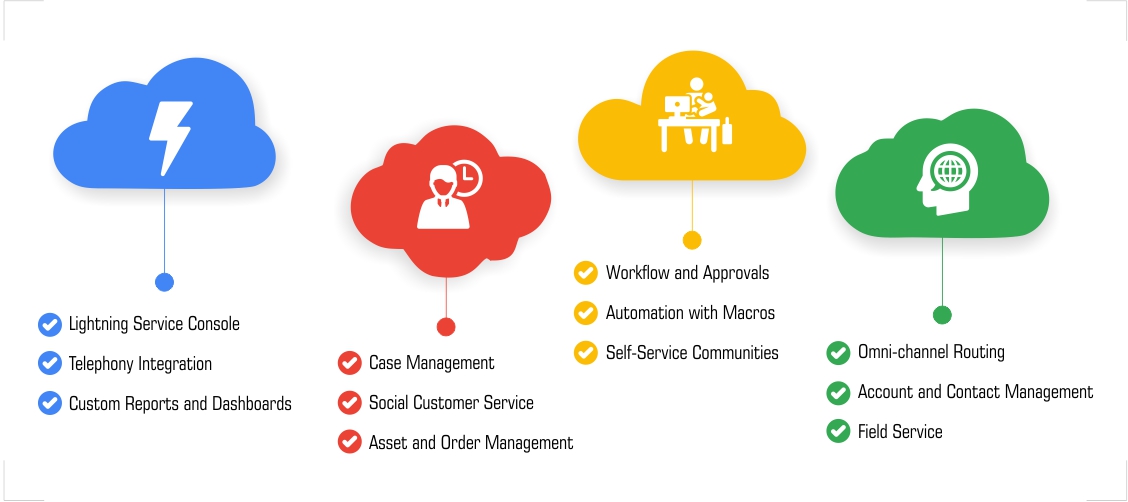 Our Solutions for Service Cloud Implementation
Einstein AI for 

Service Cloud

 

Custom Solution Development

 

Service Cloud Quality Assurance

 

Self-service Community Integration

 

Migration to Service Cloud

 

In-depth Customization

 
Hire ADVANZ101's Salesforce Service Cloud Experts
Ace customer support with Salesforce's best functionalities for customer support teams irrespective of your company size and industry. ADVANZ101's Salesforce team is adept at Salesforce Service Cloud consultation, implementation, integration, and customization along with the entire suite of related Salesforce services. We ensure that our Salesforce Service Cloud solutions for USA, Cananda, and other regions are streamlined to achieve the goal of achieving higher CSAT, reducing the average case resolution time, and eliminating any communication barriers between product/service and support teams.
Keep up with Customer Expectations with our Service Cloud Solutions