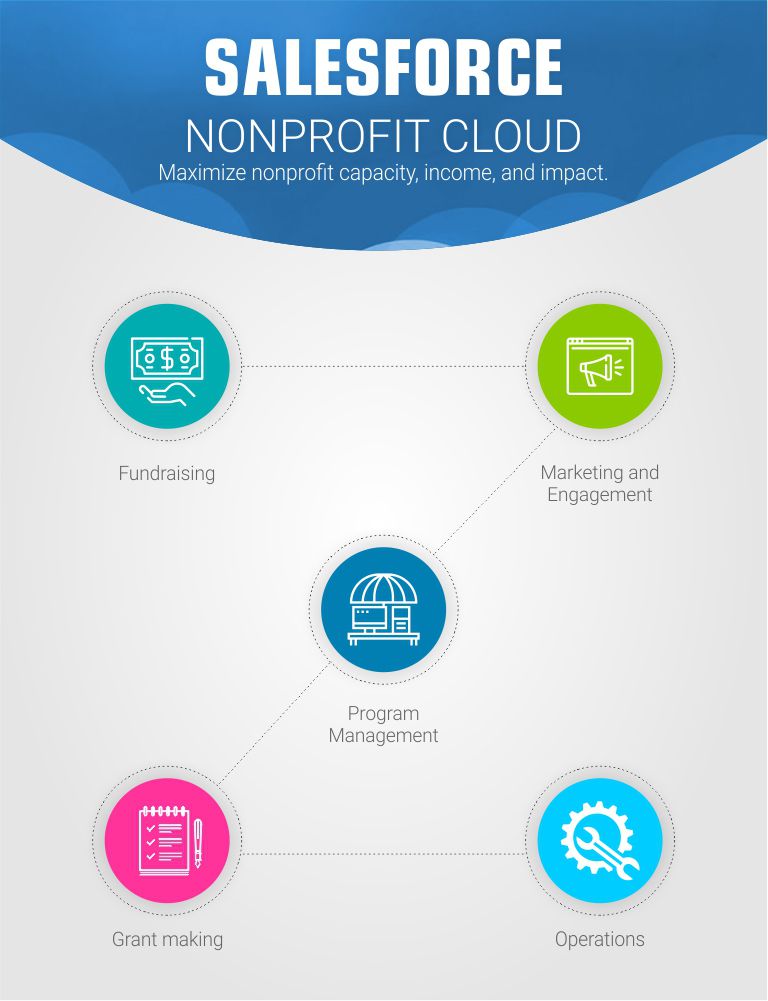 Maximize Efficiency, Revenue & Impact with Salesforce for Nonprofits
Salesforce for Nonprofits organizations has become an integrated platform for them. It is an end-to-end platform and assists nonprofit organizations (such as fundraising organizations, educational institutions, etc.) in expanding their reach from anywhere in the world. 
Utilizing Salesforce for Nonprofits, organizations are reporting that it is easier for them to do their job. They communicate with people more effectively, raising more funds, increasing employee performance, offering better programs or services, and engaging and strengthening their communities. 
Features of Salesforce Nonprofit Cloud
Salesforce Nonprofit Cloud is a powerful solution designed specifically for nonprofit organizations. It has many features that can help you achieve your goals and streamline your operations. Here are some of the critical elements of Salesforce Nonprofit Cloud: 
Donor Management: Salesforce Nonprofit Cloud allows you to manage all your donor data in one place. You can track donations, pledges, grants, donor preferences, and engagement history. This feature can help you build better relationships with your donors and increase fundraising effectiveness.
Fundraising and Campaign Management: With Salesforce Nonprofit Cloud, you can create and manage fundraising campaigns, track donations, and measure the success of your efforts. You can also automate donor communication, such as thank you letters and receipts, to save time and improve engagement.
Volunteer Management: Nonprofit Cloud allows you to manage your volunteers and track their activities. You can easily schedule volunteer shifts, assign tasks, and communicate with your volunteers to ensure they have a great experience.
Program Management: Salesforce Nonprofit Cloud can help you manage your programs and services. You can track program outcomes, measure impact, and create custom reports demonstrating your success to donors and stakeholders.
Grant Management: Nonprofit Cloud can help you manage your grants and grant applications. You can track application status, manage deadlines, and monitor grant funding.
Marketing and Engagement: Nonprofit Cloud can help you build better relationships with your supporters. You can create personalized campaigns, send targeted messages, and engage with donors and volunteers through multiple channels like email, social media, and mobile.
Reporting and Analytics: Nonprofit Cloud comes with powerful reporting and analytics capabilities. You can create custom reports and dashboards to track key performance indicators and measure your impact. You can also use AI-powered insights to gain deeper insights into your data and improve your decision-making.
Hence, Salesforce Nonprofit Cloud is a comprehensive solution that can help you manage all aspects of your nonprofit organization. Whether you need to manage donors, fundraising, volunteers, programs, grants, or marketing, Salesforce Nonprofit Cloud has you covered. 
Advanz101 is committed to providing nonprofits with the tools they need to impact their communities. We offer comprehensive Salesforce Nonprofit Cloud services, including implementation, training, and support. Our team of experienced Salesforce Certified Professionals is here to help you optimize your cloud environment. 
With our Salesforce Nonprofit Cloud implementation services, we'll help you build a customized framework for managing your data and processes. Our team will configure the platform to maximize efficiency and ensure that your data is secure and accessible. We'll also provide comprehensive training and consultation services to ensure you get the most out of your Salesforce Nonprofit Cloud system. Contact us today to learn more! 
Salesforce Nonprofit Cloud services with our IT Solutions