Get the true Salesforce Customer 360 view within Salesforce
Salesforce Customer 360 allows the unification of all customer data and creates a trusted view of a business' customers. Customer 360 Salesforce works in synchronization with many other applications that are routing customer data from different sources. With our Salesforce Customer 360 solutions firms and organisations find innovative ways to interact with their customers and stay at top of market trends in a dynamic business environment.
Say 'hello' to the first real-time CRM, Salesforce Genie
As Salesforce implementation partner we are constantly researching and devising best practices for Salesforce organisations to stay ahead of the curve. With Salesforce Genie, the power of in-the-moment data gets combined with Customer 360, ensuring real-time customer magic.  
Understand Salesforce Customer 360 better
Customer 360 is the breadth of Salesforce technology, one integrated CRM platform to bring your company and customers together from anywhere, as described by Salesforce.  
What is the cost of Salesforce Customer 360?
The cost of this data management platform is contingent upon your business requirements like, your clientele profile, processes automation type, and the investment amount for platform implementation.
What can be integrated with Salesforce Customer 360?
It can be integrated with all major B2C Salesforce applications like the Salesforce Service Cloud, Marketing Cloud, and Commerce Cloud.
How can ADVANZ101 help me get the best from Customer 360?
As a Salesforce consulting partner, ADVANZ101's Salesforce Customer 360 development services will give you a holistic view of customer information on a centralized data platform where you can manage and monitor all customer data, and utilise it to mold your services to better cater to your clients' needs. With Salesforce Customer 360 implementation you will achieve:
Hyperconnectivity of business data from any source

 

Seamless and

 

a highly engaged customer journey

 

Capability to build strong data-driven strategies

 

U

nified customer profiles

 and 

unification 

of 

all customer touchpoints

 

Ease of data management across all Salesforce clouds

 

Maximized benefits from 

Einstein, 

AI tool of 

Salesforce

 

Eas

y

 integration with any desired Salesforce product or application

 

Live tracking 

of sales/marketing operations and performance mapping

 
Our Salesforce Customer 360 development and implementation solutions for businesses in USA, Canada, Australia and across the globe enable best-in-class data management and uninterrupted consumer identity access management.  
Unify – Segment – Activate Data Across Every Customer Touchpoint
Customer 360 unites your marketing, sales, commerce, service, and IT departments with shared, easy-to-understand data on one integrated CRM platform. With a single view of your customer, your teams can create connected, personal customer experiences that build stronger relationships.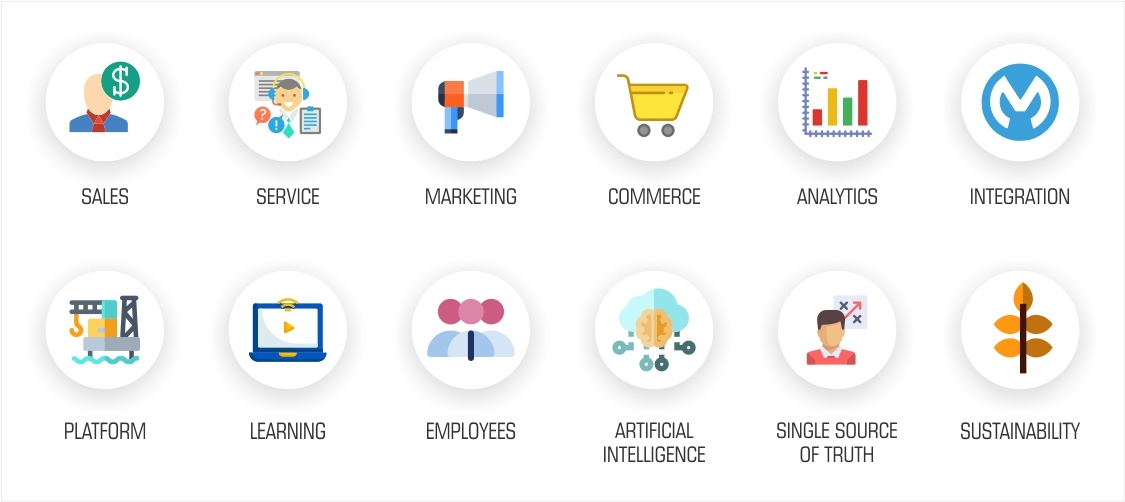 Attain Success with the right Customer Insights