Sort Medical Information with Salesforce Health Cloud Experts 
A massive amount of medical data lies with hospitals and health insurance companies, and it is challenging to manage it. At this moment, Salesforce Health Cloud plays a pertinent role. Advanz101 is a Salesforce partner and our team of Certified Health Cloud consultants will assist you in sorting all the patients' inf information in place of your organization. 
Salesforce Health Cloud developed with a motive to operate as a cloud-based technology in healthcare sector. It helps health workers to have a complete view of patient records to provide effective treatments. 
Salesforce Health Cloud offers updates of patients, beginning from appointment history, current conditions, specialists attending to patients, and to medications – all are stored in one place.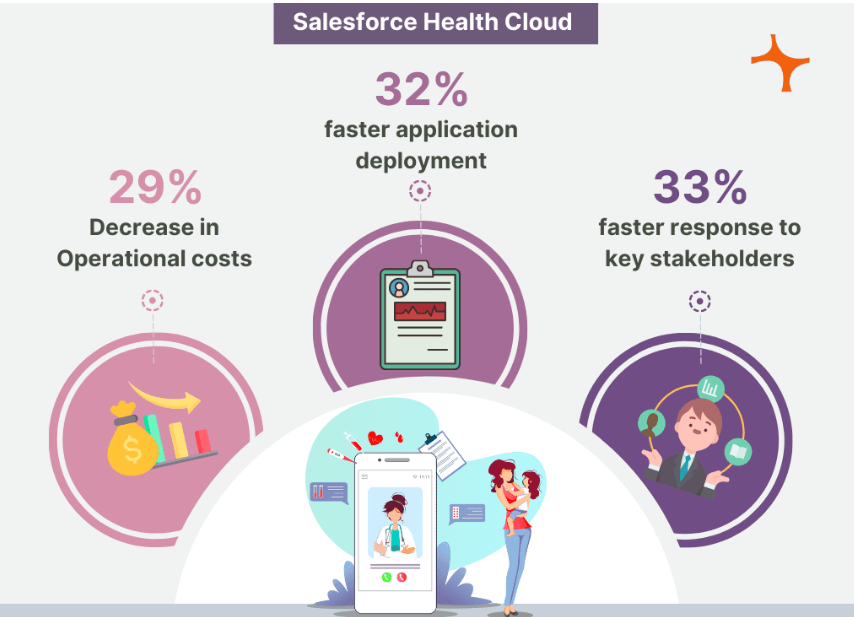 Users of Salesforce Health Cloud
Salesforce Health Cloud is a worldwide leader in the health sector to enhance patient care from the first point of contact to medical billing by the following beneficiaries:
Providers
Payers
Healthcare systems
Pharmaceutical firms
Medical device companies
Features Offered by Salesforce Health Cloud
Advanz101 Salesforce Health Cloud experts will assist you with the following features:
Complete Assistance to Patient's Journey
Easily Generate Customized Care Plans
Complete Medical History at a Single Touch
Real-time Interaction
Compatible with EHR
Medical Information Synchronization at Every Step
Track Medical Devices Sales
Unique Benefits of Salesforce Health Cloud
Being a user-friendly CRM solution, it offers exemplary care management and patient experience.
The user will get convenient dashboards and automated forms. Therefore, there are less chances of incurring mistakes.
Patients can view their complete medical history, contact information, insurance plans, existing health issues, and prescriptions.
Medical data, such as sleep pattern, exercise regime, and glucose levels from devices are collected and analyzed at one place.  
Offer rich medical insights by patient classification on the basis of condition, drug type, age, or any other criteria.  
It develops charts and a color-coded technique to provide medical data in easy-to-understand formats. It is making easier to access the information that customers require. 
Healthcare organizations at the global level are positive towards technologies and heavily invest in them. Through Salesforce Health Cloud, health businesses can achieve improved operational efficiency and drive the best health outcomes. If you require any Salesforce Health Cloud expertise, you can contact us as we are a team of certified Salesforce Health Cloud Consultants.
Reimagine Healthcare with our IT Solutions