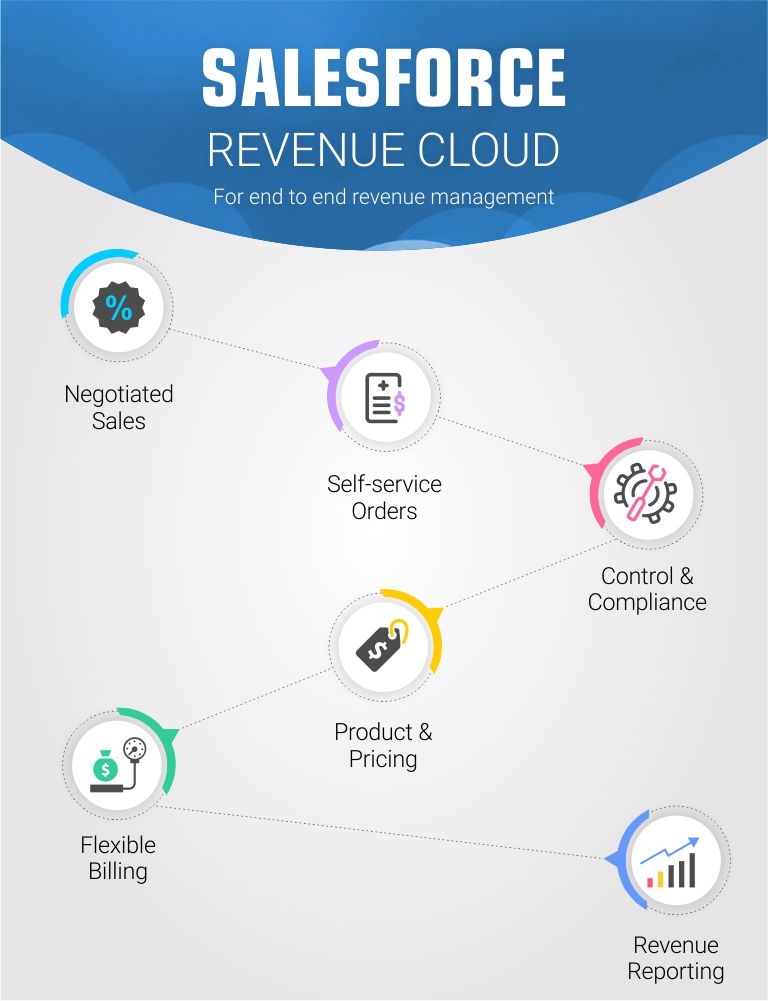 Streamline Your Revenue Growth with Our Revenue Cloud Experts
Managing your business revenue is a tedious task! Therefore, ADVANZ101 is here to manage your business revenue with Salesforce Revenue Could. It is an end-to-end revenue management solution to streamline your entire revenue lifecycle.
It will manage your business revenue growth and will provide agility to your business to speed up the buying process, expedite new revenue streams and enhance revenue efficiency.
Revenue Cloud empowers CPQ, Partner Relationship Management, and B2B Commerce to assist your business in managing revenue growth across every channel.
Revenue Cloud is included with the Customer 360 Platform and it allows your business in connecting sales, partners, operations, and finance teams. It will define one route for revenue and customer transactions consisting of purchase to renewal to revenue recognition.
Revenue Cloud will give your company the agility to
Speed up the purchasing process
Open new revenue streams
Improve revenue efficiency
The Customer 360 Platform includes Revenue Cloud, by which companies can link their sales, operations, and finance departments. It designates a single path for generating revenue from client interactions that comprises of Purchase, Renewal, and Revenue Recognition details.
Features Offered by Revenue Cloud
In every business, customers require a seamless buying experience! And to achieve this, your front and back office should be perfectly aligned. 
Lead management: It will allow sales teams to track and manage leads from the initial contact to conversion. 
Opportunity management: It assist sales teams to track and manage sales opportunities, including stages of the sales process, expected close dates, and expected revenue. 
Account management: This feature allows sales teams to track and manage customer accounts, including contact information, product and service details, and sales history.
Forecasting: Sales teams can forecast future revenue based on historical data and current sales activity in Salesforce Revenue Cloud.
Improved Revenue Efficiency: Salesforce Revenue Cloud assists in increasing the efficiency of complete revenue cycle, validating sales orders and consolidating invoices.
Customer Asset Lifecycle Management: It portrays data in a simple format of customers' purchases and supervises contract amendments over time and open balances.
Real-Time Tracking: Users can use real-time tracking against valuable KPIs to assist teams and make strategic decisions.
ERP Integration: Easily integrated to ERP systems to make financial data actionable by adjusting go-to-market strategies or providing discounting guidance.
Unique Benefits of Salesforce Revenue Cloud 
As a Salesforce Sales Cloud consulting partner, we make sure that concerned teams across businesses can function properly without any hindrance. Revenue Cloud offers the below benefits to its users: 
A Single Stop for Information: Free yourself from rummaging through several separate applications to fetch the required information. With the Salesforce Revenue Cloud, users conveniently access each element in a single unified place.
Access Information from Anywhere: There is no need to be physically present at your workplace to view the information. You can access all the information from the screen of your mobile because Salesforce offers the convenience of accessing all of its features in one unified place.
Save Your Valuable Time: Salesforce Cloud Revenue will save you valuable time and offers new ways of increasing revenue for your business by creating new products and services, and facilitating collaboration across departments.
Salesforce Cloud Revenue is Fully Automated: In this technology era, everything is getting automated, and Salesforce Cloud Revenue is following the same path by eliminating your teams' manual work process. A visual dashboard shows all relevant details, like customers' purchase history. It also keeps track of contracts and balances that provide a clear understanding of customer interaction.
Gain More ROI by Performance Optimization: With the integration of the Revenue Cloud into your business, you can leverage high ROI by optimizing your processes effectively. Your every process will be optimized ranging from generating orders, to invoicing, to key performance indicators. Furthermore, it is designed in such a way as to make the ERP framework more efficient, which helps in accelerating customer interaction and generating actionable data, thus achieving higher ROI.
Streamline your business revenue with Advaz101 Revenue Cloud experts who will assist you in:
Unlock new revenue streams with efficient partner onboarding.
Assist your sales representatives to quote more accurately.
Offering an improved buying and selling experience by unifying every channel and revenue model.
At Advanz101, we are dedicated to helping our clients achieve their business goals by providing end-to-end Salesforce solutions that are tailored to their unique needs.  
Unlock new revenue opportunities and drive growth with Salesforce Revenue Cloud