This quick read will explain you everything about Salesforce Customer 360, the first real-time CRM to hit the global market. Salesforce Customer 360 is responsible for connecting marketing, sales, commerce, service, and IT teams around every customer.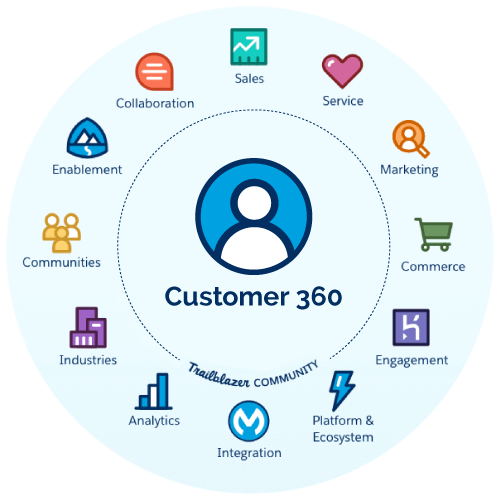 With a shared view of customers, businesses can better coordinate their teams to meet their clients' demands. As marketing, sales, and service teams' activities get aligned, customer loyalty is the natural consequence driving business growth in a holistic fashion.
A low-down to know about Salesforce Customer 360:
Within Customer 360 there's an application for every stage of a customer's journey, right from the point it gets identified as a lead until it gets to the stage of turning into a loyal customer. When all the data gets integrated and the analytics are available for every team to see, that is when the core competencies of Customer 360 come into effect.
Given that Salesforce is built with the end customer in mind, therefore your customer will by default always be at the center of your business through personalized and connected customer journeys and experiences. As you enter Customer 360, the icons around your customer indicate Salesforce's suite of products. By presenting a centralised view of marketing, sales, IT and analytics, commerce, and service, on one integrated platform providing a single and shared view of every customer.
Customer 360 can be applied to financial services, healthcare & life sciences, retail, consumer goods, manufacturing & automotive, communications, media, public sector, energy, travel-transportation & hospitality, education, non-profit, professional services, and high tech for every role like sales, IT, commerce, service, marketing or executive.
Customer 360 solutions can be executed by organisations that are small & emerging (1-200 employees), midsize (200-1000 employees), or at the enterprise level with 1000+ employees. You can also iterate Salesforce Customer 360 on the basis of company goals like increasing market cap, greater brand recall, smoother lead conversions, uniform customer journey from the start to finish.
Connecting conversations across businesses and geographies in one platform is the biggest advantage of Salesforce Customer 360 especially in the present business environment where every customer touch is bringing in different kind of data and information.
Improving processes, powerful workflow, end-to-end analytics, and better business intelligence that improves a business' bottom line is one of the major focus of Customer 360. It is pertinent to note that the benefits multiply as more than one Customer 360 app is added. ROI expectations are mostly met or exceeded as per testimonials from varied businesses for Customer 360.
Help your teams come together with our bespoke Salesforce Customer 360 solutions, for more information please feel free to reach us on info@advanz101.com