Maximize Omnichannel Customer Support with our
Zoho CRM Development & Consulting Services
We offer customized solutions to a wide range of businesses as a Zoho CRM software Development company in USA. We support all Zoho products and provide assistance at every step of the operations' overhauling process. By providing clients with value on a consistent basis, we strive towards a long-term relationship. Our experienced Zoho consultants understand the intricacies of Zoho better than most consultancies. With high quality services you can be assured of achieving your business objectives without constraints.
ADVANZ101 understands that each business has its own unique needs and requirements, and based on that our pricing for Zoho services remain flexible and dependant on the scope of work clients hire us for. Time is of paramount importance to us and hence we successfully deliver every kind of project, be it a Zoho CRM implementation project or a support services one, right on time without compromising on quality.
So, Why Do You Need A Zoho CRM Authorized Partner?
The biggest advantage you have with Zoho Solutions is it is very easy to implement and use, and offers tonnes of effective features for your brand like:
Ability to Reach Your Customer Base across Multiple Channels.
Using Zoho Implementation Services, You Will Be Able To Speed Up Your Sales Process.
Zoho CRM Developers Help You Design an AI-Based Interface Using Which You Can Predict Customer Behaviour.
Effectively Manage the Incoming Leads for Optimum Productivity.
Keeping a Track on Your Progress on Easy Basis.
Hire our full set of Zoho CRM consulting services for your project. ADVANZ101' Business Systems Inc's Zoho CRM solutions for USA, Canada, Australia, Europe, MEA, and India have helped businesses consistently scale the path of growth with due automation of business activities.
How Zoho CRM System Help Businesses?
Zoho CRM features that helps your business getting more leads, drive more sales, and grow your business faster. Zoho CRM system allows you to manage customer accounts, such as: monitor all accounts from a shared database; view them across products, locations, account, and status; and track their purchase history for cross-sell or upsell opportunities and many more. See the list of features that Zoho CRM comes with.
Zoho CRM Consulting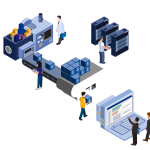 ZohoCRM Migration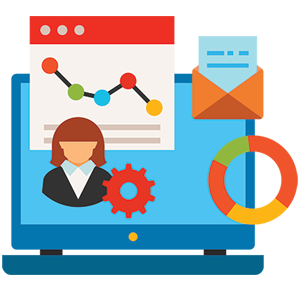 Zoho CRM Support & Training
Integrate Zoho CRM with the best business tools
Zoho CRM comes with a wide range of integration options. The integration range includes the best business applications for marketing, collaboration, telephony, messaging, customer support, and more.
Our Zoho CRM Development Includes
Zoho Integration With Telephony
The moment a customer is going to call your enterprise, the team members can directly have a look at the call details right at their Zoho Desk Interface. This is probably one of the best features of Zoho CRM support, where you always have real-time information of the caller, as they are logged automatically to the system. This also means that calls than can be linked directly to the tickets and can be assigned to the team members later.
Zoho CRM also offers Click2Call integration using which you can directly make calls to the customer, right from the dashboard in their profile. This cuts short the process of Ticketing Integration and further simplifies the linking process of tickets with calls.
Making Calls from Profile is as Easy as Clicking the Call Icon next to the Client's Number.
There is a Tracking Mode That Lets You Have All the Details of Activates That Has Been Performed with Individual Client.
Zoho CRM Records the Calls that Can Be Later Used for Extracting Details About the Customer.
The Contacts of the Customers are synced On the Clouds so you can be sure of never losing them.
Directly Get to 'Missed Called' Links In The Dashboard When You Miss a Call from a Customer.
Sales And Marketing CRM Solution with Zoho
When you leverage the Zoho CRM, you get the option to automate the Marketing Process for your business, something that is really helpful for enterprises looking forward to having state of the art client reach and Zoho Customization Services enables them to launch Marketing Automation solutions.
With Zoho CRM, you could use a lot of Marketing Tactics and automate them with features like E-Mails and Campaigns. Apart from this, you also get an option to integrate the Leads and Contacts directly with your website so that they get synced automatically to the CRM system and can be accessed at your will. Zoho solutions offer you with everything that you are looking forward to increasing your sales, as it effectively manages all your leads, helping you to save both the time and resources on marketing. The built-in dashboard provides detailed insights on Reports and Analysis, where you could measure the effectiveness of your campaigns as well.
Using Zoho customization services for sales and marketing automation, you can also reach to your lines of customers with Automated Mails, keep close track on Leads that are captured online, and setup Multiple Web Forms as well. All in all, Zoho CRM is the best utility tool when it comes to Sales and Marketing Automation.
Zoho CRM Reporting Solutions
When it comes to making spot-on business decisions, you need to have access to Reports and Facts. Zoho Customization Services offers you an easy access to the data with all the details, when and where you want it. Unlike other management processes, Zoho CRM support offers accessible information for your teams with Enhanced Business Intelligence (BI). Using the Clever Analytics of Zoho CRM, you can see the data in Graphical Formats, which is very easy to understand and can also be projected for the entire team.
Using Zoho CRM, you can Design and Develop the reports and then can later share them with your colleagues privately. The reports can also be emailed periodically as per the user's requirements as well.
Zoho CRM connects to any Data Source that you have over the cloud and can analyze the data from different sources like Feeds, Files, Previous Databases, and Apps.
 Zoho Solutions offers an in-depth analysis of data with options to choose components to create visually appealing Reports and Dashboards.
With Zoho, you can easily combine the data from different sources to form reports that are Cross-Functional. For example, you have an option to prepare the Marketing Data over Excel and Sales Chart on CRM and then combine them together in the end to create a report.
Zoho CRM Data Migration to Any CRM
Migration of data from the CRM module is quite easy in Zoho CRM support. The entire process is automated and doesn't require manual interference. The CRM module's files are automatically imported to the columns of Zoho CRM and if the modules are not readily available in the CRM from which the fields are migrated; then Zoho CRM creates the same automatically, and files are mapped accordingly.
We are sure, after migration, Zoho Customization Services will help your business run more effectively!

You start by defining the current and future requirements at the CRM system by specifying URLs and providing the credentials that will be used for the access.
After you have provided the CRM details right at the Zoho CRM, you just have to select the entities that you wish to migrate to the new system and tick all the modules that you wish to export.
Once you have done the selection process, Zoho CRM takes from there and simply at a touch of a button, the migration gets completed in no time.
Zoho Accounting System Integration
For the accurate accounting of sales that have been made over time, Zoho CRM lets you connect all the major Finance Apps to the system, and you can have access to the Client Data anytime you want it. Zoho Implementation Services are designed in such a way that the Sales Team can have information's like Credit History, Details of Payments and Purchase Patterns of Customers; all available to be accessed at one place.
Zoho CRM also allows you to have consistent records of Customer Payment Details, so that the teams can have a look at the customers who are late in the payment and can fetch details in a speedy manner; thereby automating the entire quotes and invoices processes. Zoho Customization Services also lets you automatically create invoices when the lead is worked upon and keeps a track at inventories for you.
For the sales team, Zoho CRM makes it really easy to look at the available list of products ready for sale and automatically creates the invoice for the selected ones. The customized features of Zoho CRM support lets you select the Accounting Software that you want to merge with the system in order to have much better control over the Accounting Management with Integration as well.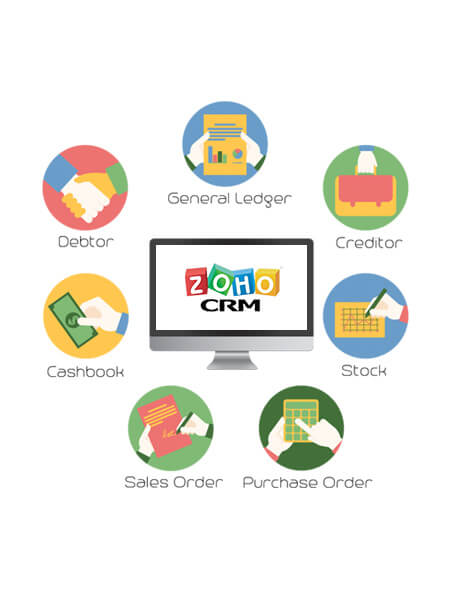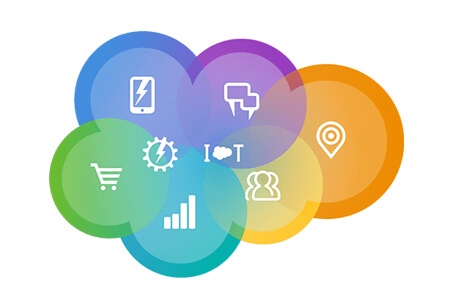 Zoho CRM Integration with Third Party
With Third-Party Integrations, Zoho Offshore Developers makes it really easy for you to Integrate Apps of your choice to the CRM itself, where the data can be Synced and Accessed from a central system; which in this case is Zoho CRM. This is really important for enterprises that have their data over the other apps and the ones that are looking forward to migrating to a Zoho CRM. The clever analytics available with Zoho eliminates the chances of errors and maximizes your efforts to strategize the sales and management processes for enhanced performance and profits.
With Zoho Customization Services, you will be able to extract all the data to the format of your choice (XML or JSON) and then can further develop new apps as well. With Third-Party Integration, you would be able to customize the CRM module as per the needs and requirements of your business and based on the inputs of the clients; you could make necessary changes in the CRM in order to execute the projects in a much better way.
Collaboration Services with Zoho
Collaboration is the basis of how you interact with your teams over projects and at the time of closing an important deal. With Zoho CRM, you could include groups and individual team members over the project to collaborate with them by simply mentioning their name at it. This helps you to collaborate inside the CRM itself and Zoho Customization Services speeds up the information process by a huge margin.
For a big enterprise, the collaboration between teams is a really important step to share knowledge and skills and Zoho Solutions makes it possible for a far better development of a project. With all the tools one could possibly need to find and use the information in the best possible way to collaborate; Zoho CRM also offers core elements like Sharing of Docs, Real-time team collaboration, and Emails.
Using Zoho Customization Services, you could collaborate with teams and track project processes with ease.
Zoho CRM allows you to escalate issues by collaborating with experts.
Make quick Project-Related Decisions over the group chats and save time that would have otherwise be wasted over an exchange of E-mails.
Easy sharing within the Zoho CRM helps you to unlock the team's potential, where you collaborate with individuals to share knowledge.
Unique Service Offerings for Zoho CRM
Proven Solutions To Help Businesses Succeed