In the business world, customer relations are everything. That's why; having a great CRM (Customer Relationship Management) system is essential for any company that wants to be successful. Finding the best CRM software for your company can be a difficult task. There are several choices available. So, deciding which is ideal for you might be challenging. In this blog post, we'll compare two leading CRM solutions – SAP VS Salesforce – to help you make the right decision for your business.
Market Share for Salesforce and SAP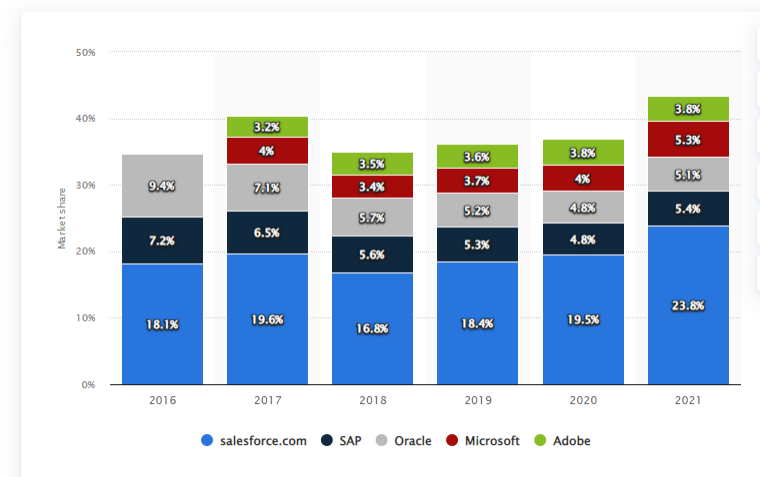 Source: [https://www.statista.com/statistics/972598/crm-applications-vendors-market-share-worldwide/]
The given facts from Statista reveal that Salesforce, with leads in market shares (about 24% in 2021) of customer relationship management (CRM) applications across the globe. Evan SAP is a distant second with about 5.5% market share. It displays that Salesforce still controls the CRM market with a big margin.
Nevertheless, in terms of profit, SAP still grows better than Salesforce. By comparing earnings:
Salesforce net income by July 2022 was US$ 68M quarterly
SAP's net income by June 2022 was US$ 217.6M quarterly
Hopefully, Salesforce is growing at such a faster pace that by 2030, it will overtake SAP in terms of profitability.
What industries is each CRM better suited for?
SAP and Salesforce are two of the most popular CRMs on the market. Both provide a range of features that can help firms of varying sizes. But which CRM is better for your business? It relies on a few things, like:
Size of business
The complexity of the sales process
The industry you are working
SAP is an excellent choice for large businesses with complex sales processes. The SAP CRM system is very robust and can handle data. It's also a good choice for companies in regulated industries, such as healthcare and finance. It is because SAP offers compliance features that other CRMs don't have.
Salesforce is a good choice for small businesses and businesses with less complex sales processes. It's also a good choice for businesses in fast-moving industries, such as technology and retail. It's because Salesforce offers features that help companies to move quickly and adapt to change.
Which CRM is right for your business? It depends on your specific needs. If you need help deciding which CRM to choose, talk a close look on their features and get a quick answer.
Features Comparison
Both Salesforce and SAP are robust CRMs from mature businesses that assist managers and salespeople in streamlining their workflows and tracking leads to enhance sales operations.
I. Salesforce VS SAP: Sales & Marketing
Thanks to SAP's integration with Sales Cloud, users can discover which client contacts produce money for their business, which gives them unified visibility into customer interactions. Additionally, it offers sellers wise, value-driven suggestions for focusing sales on customers and meeting their demands.
Users can view and manage their sales data using Salesforce's Sales Cloud on the platform or through its mobile CRM app. Using data analysis and analytics; the solution offers capabilities for tracking sales possibilities, comprehending revenue growth, forecasting sales, optimizing customer experiences, and automating sales tasks.
II. Salesforce VS SAP: Case Management
SAP's case management feature assists firms in handling HR and internal matters and customer support demands. Additionally, because users can define and monitor all service-level agreements, the system ensures no cases squeak between the cracks.
Features for case management are also available in Salesforce's Service Cloud. Users can manage their customer support cases and see the full context of each one. The system automatically assigns points to the appropriate agent or team based on availability and skill sets.
III. Salesforce VS SAP: Back-office Integration
Salesforce provides users with several functionalities within Customer 360 through various integrations. Users can choose from their connected third-party programs in the AppExchange marketplace, for instance, and instantly install them. Customer 360 Truth is a collection of add-on products that Salesforce offers. Teams may acquire insights from all of their data sources that connect customer data from Salesforce and non-Salesforce platforms.
For integrating businesses with Enterprise Resource Planning (ERP), SAP is the best CRM one can bet on. SAP back-end uses SAP S/4 HANA environment to reduce the usage of middleware that reduces licensing costs.
IV. Salesforce VS SAP: Analytics
Features that facilitate data integration and analysis are part of the SAP package. Firms can acquire valuable insights to increase sales and enhance customer engagement and retention by maximizing customer delivery, inventory, and return data. Users can combine and analyze their data across their departments and solutions by integrating their SAP solution with the SAP Analytics Cloud.
The CRM Analytics solution from Salesforce offers users AI-driven insights based on customer data to help every aspect of their organizational activities. It provides groups with analytics software that supports sophisticated statistical modeling and requests. It uses data to measure important customer service metrics with warnings and targets and unearth insightful customer information.
V. Salesforce VS SAP: Batch Email Marketing
Emails and newsletters can be created using pre-built design templates using Salesforce Sales Cloud. To better serve the requirements of their consumers, users can develop personas for targeted user audiences using CRM data. Users can schedule broadcasts and examine their calendars to create a long-term strategy. Salesforce also provides specific content workflows to promote ongoing interaction with your content.
Customers may quickly take advantage of enterprise-grade email marketing features with SAP CRM. To draw viewers from various sources, utilize its complex campaign management and cross-channel marketing. They offer extensive breadth and in-depth personalization for large-volume delivery and sophisticated targeting. This CRM combines inbound and outbound marketing initiatives onto a single platform for the user's ease.
VI. Salesforce VS SAP: Business Intelligence (BI)
With the ease of use and little to no dependency on IT, Salesforce's paid add-on QlikView offers business intelligence benefits with close to real-time analytics. To increase sales efficiency and effectiveness, Salesforce.com users may measure pipeline trends throughout the sales cycle with QlikView. Users may design and track marketing efforts to find ways to improve by evaluating customer and lead data.
SAP is not a pure CRM specialist like Salesforce. It combines features like KPI reporting from SAP's BI solution. It may be used directly in SAP CRM without a separate BI system.
VII. Salesforce VS SAP: AI & Machine Learning (ML)
Salesforce-based AI offers services such as:
Einstein Bots for improvising business procedures
Einstein Prediction builder for forecasting business outcomes
Einstein's Vision for identifying products and brands
Einstein Discovery focuses on enhancing productivity by discovering relevant data patterns
SAP implements AI-based services such as:
SAP Deal Intelligence: Focus on scoring and ranking prospective sales according to how probably they could close
SAP Customer Retention: Anticipates consumer behavior
SAP Service Ticket Intelligence: It classifies service tickets automatically, orders the tasks for completion, and provides solutions to common queries
SAP CoPilot: An online Chatbot that assists users in attaining their goals by asking questions and replying with data
Assessing the Needs of Your Business to Select the Most Suitable Platform
Determining the needs of your business is a critical step in selecting the most suitable platform between Salesforce and SAP. How? Through evaluating these steps:
Salesforce offers an intuitive and customizable user experience, while SAP provides a more technical approach with deep analytical capabilities.
Salesforce CRM can quickly and easily manage tasks, contacts, calendar events, and more, while SAP provides comprehensive enterprise-level tools to streamline complex business processes.
Salesforce's cloud-based infrastructure is highly flexible and accessible from any device, whereas SAP's on-premise solution requires additional resources from IT teams.
Ultimately, the best platform depends on the size and needs of your business. Knowing each platform's pros and cons will enable you to choose the one that is perfect for your business.
Both Salesforce and SAP offer inclusive solutions that can meet the needs of many businesses. But there are differences in their capabilities. To determine it, follow these steps:
Salesforce CRM is user-friendly and offers features such as lead management and customer segmentation, while SAP CRM provides more complex features like analytics and reporting.
Salesforce also offers customization options for their CRM, allowing businesses to make changes to suit their specific needs. SAP CRM also has a range of customization capabilities, such as integration with other software products and services.
Therefore, Salesforce and SAP have unique advantages that can benefit businesses differently. It is essential to compare the features of both platforms in detail to determine which one best fits your organization's needs.
The final step in assessing the needs of your business to select the most suitable platform is to review any existing applications and any new applications you would like to deploy and then identify which of the two platforms is best suited for integrating these applications into your overall strategy.
Last Thoughts
In conclusion, SAP and Salesforce are great options for businesses looking for a comprehensive CRM tool. Both have their strengths and weaknesses. Ultimately, you should choose the CRM that best fits your needs and business goals. Ponder about your priorities, budget, and timeframe that will benefit the business.
After giving a careful thought, you should look in the current scenario. If you have a small business, Salesforce CRM will be the best suitable for your working. The given aspect is clearly defined by its features. Salesforce is still in demand due to its easy usability and user-friendly UI interface.
In such scenario, ADVANZ101 Business System Inc. will assist you in the most suitable way. We are leading Salesforce service providers in USA, Canada, Australia and other regions. We have a certified team of Salesforce developers who know how to create some of the best Salesforce CRM solutions for SMEs across the world.