Today is the age of digitalization. So, it has become vital for businesses to integrate well. To stay competitive, firms gradually focus on two things:
Acquiring efficiency
Improving customer experiences
How to go with it? The answer is Salesforce. To stay with the fact, the given statistics reveals the bright side of the given CRM solution: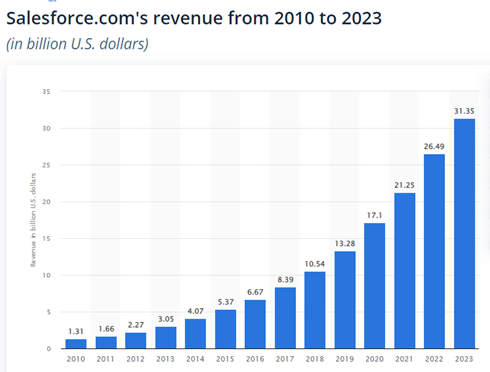 The given data from Statista reveals that the annual revenue from Salesforce is now more than US$30 billion. It also conveys that Salesforce is the leading solution for every company to adopt for better results.
Integrating systems quickly and flexibly with Salesforce Integration Solutions lets enterprises modernize their data infrastructure and grow.
Why? The answer is the wide acceptance of Salesforce among all industries across the globe.
In the given blog, we will answer the following questions to help you get more from the given clod CRM solution:
Concept of Salesforce integration solutions
Need for Salesforce integration Solutions among enterprises
Few crucial approaches to the Salesforce integration
How will it help modernizing data infrastructure?
What is Salesforce Integration Solutions?
Before proceeding forward, let's know more about the given concept!
It is a procedure of effectively connecting Salesforce with other systems and databases within the firm's setup. There are several types of Salesforce integration services. It relies on the specific necessities of the business. Some common approaches include:
1. Business Logic Integration
It is an approach that involves integrating systems based on business rules and logic. It agrees to:
Real-time data synchronization
Guarantees for data consistency across systems
2. User Interface Integration
It involves embedding Salesforce components within other applications or vice versa. Using it, consumers can access the Salesforce data seamlessly within other systems.
3. Data Integration
Data integration involves matching data between Salesforce and other systems using tools such as:
ETL (Extract, Transform, and Load) processes
APIs (Application Programming Interfaces)
4. Cloud Integration
Cloud integration comprises connecting Salesforce with other cloud-based platforms. It enables:
Unified data flow
Better collaboration
5. Communication and Collaboration Integration
The given approach focuses on integrating Salesforce with communication tools, such as:
CMS (Content Management Systems)
Marketing automation platforms
Why Businesses Need Salesforce Integration Solutions?
Salesforce is widely adopted by organizations worldwide to improve efficiency, particularly in the following areas:
Customer relationship management
Workforce mobility
Operational agility
However, the vast amount of data generated within Salesforce must be more active. It needs reallocation and distribution across multiple business channels. It is where fully automated Salesforce integration solutions come into play.
By implementing Salesforce Integration Solutions, companies can benefit in several ways:
Improve Data Accuracy and Consistency: Integration ensures data is consistent across different systems. It helps reduce errors and improvises data quality
Streamline and Automate Processes: Integration consents unbroken data flow between systems and automates processes. Here, there is the elimination of manual data entry, which saves time and minimizes errors
Complete Customer View: Integration enables a holistic view of customer activities across different platforms. So, firms can offer valuable insights and refine customer service for people
Improve Decision-Making Process: Integration fuses data from various sources. So there is a provision of accurate info for informed decision-making
Boost Productivity: By automating processes and providing a unified data view, it enhance efficiency within the firm
Approaches to Salesforce Integration
Typically, integration in Salesforce comes in two factors:
App-Based Integration Approach
It consists of either low-code or no-code tactics that involve the utilization of applications from:
Salesforce App Builder (MuleSoft Composer)
3rd Party App (Zapier)
There is one positive point from the given method. It is the ease of setting up the system! Therefore, SMEs can incorporate the given integration procedure independently.
2. Code-Based Integration Approach
It is one of the best options where Salesforce integrates with other systems using the Salesforce programming language called Apex. It emphasizes integration for large enterprises.
However, unlike app-based integration, it is not independent. It takes the assistance of a CRM development firm to give fruitful results.
Benefits of Modernizing Data Infrastructure with Salesforce Integration
Modernizing data infrastructure through Salesforce integration offers several benefits for businesses:
Improved Data Accessibility
The integration caters for data collection from various platforms and systems. That way, they can offer a centralized and unified view of data to take perfect decisions.
2. Enhanced Data Accuracy
By automating data synchronization and reducing manual work, there is big progress in data accuracy and consistency.
3. Increased Operational Efficiency
Utilization of the integration solutions from Salesforce results in high operational efficiency. It happens due to:
Simplifying the whole procedures
Abolition of duplicate data entry
4. Better Customer Insights
The integration enables an all-inclusive view of customer activities, interactions, and preferences. Thus, it permits enterprises to:
Gain valuable insights
Deliver personalized experiences
5. Improved Collaboration
Integration facilitates flawless collaboration between different departments. It do through offering a unified platform for sharing and accessing data.
Wrapping Up
At last, Salesforce Integration Solutions offers businesses the opportunity to modernize their data infrastructure and drive business growth. By integrating systems, companies can enhance:
Data accuracy
Update processes
Gain a complete view of customers
Further, there is availability of various approaches to integration. It will add extra advantage in the operation of any organization. Thus, Salesforce integration is a crucial step for firms. Now they can wish to maintain their edge in the digital era.