To understand why you should be making this move, it is essential to understand what exactly is an API? Application Programming Interface/API is a set of functions and procedures allowing the creation of applications that access the features or data of an operating system, application, or other service.
In 2018 ZOHO unveiled the Zoho CRM API V2.0 to replace V1.0 and also announced that the newer version will not be compatible backwards. Thus, from December 31, 2019 the Zoho API V1.0 will not be supported and all the developments made under API V1.0 won't be functional. This announcement made all the customers sit up and update the Custom Functions to avoid the CRM malfunction as December 31, 2019 rolls in.
Businesses relying on Custom Functions, Deluge (programming language for non-programmers), and AI development services are set to witness a sweeping effect on their current functionality. Therefore, it becomes all the more essential for Zoho CRM API V1.0 users to acquaint themselves with the revamped features and prepare for the ensuing update.
The Zoho CRM API V2.0 is quite flexible and offers additional features designed to enhance integration security with third-party systems and to improve the overall performance and reliability of the API interface.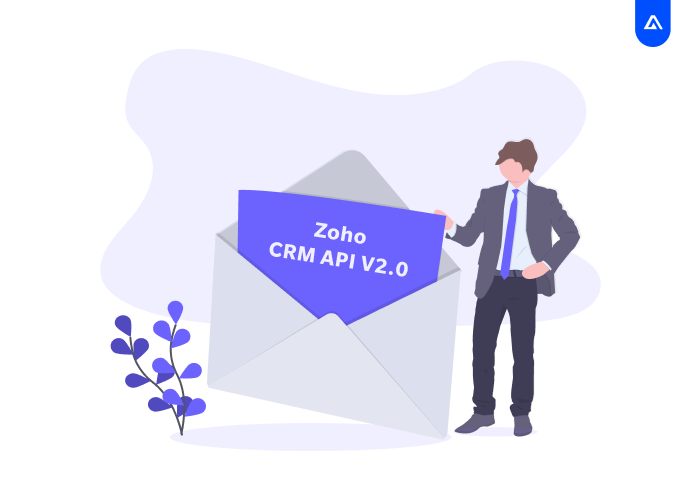 A brief of the most important changes and advantages that will come with Zoho CRM API V2.0 –
1. Strict adherence to REST standards.
2. Improved compatibility with Mobile, Javascript, and Server side SDKs.
3. Notification APIs will provide instant push notifications on data changes.
4. Provision to fetch upto 2,00,000 records or insert upto 25,000 records in one go.
5. Records accessibility and introduction to share some of the permissions on the module.
6. V2.0 will be inclusive of functionality related to workflows, approvals, and Blueprints.
7. Date/Time field values will be as per the ISO 8601 format that conveys the time zone as well.
8. API V2.0 will only allow easy JSON parsing as opposed to the utilization of both JSON and XML in API V1.0; XML was a bit old and slow.
9. Maximum of 2,000,000 credits for the Ultimate edition of Zoho CRM, whereas V1 API has a maximum limit of 25,000 credits for the Enterprise edition.
10. The rationale behind introducing 'API Names' is that all the changes in names of custom fields and custom modules won't affect existing integrations.
11. A simple authentication tool will be used to request any third party applications' REST APIs to get access from the user's authenticated data from their functions and widgets.
12. No security risks prevail upon API V2.0 because there are no 'permanent access keys' to risk being compromised; the OAuth2.0 protocol offers users a secure and easy mode of authentication.
13. The Zoho CRM Functions in API V2.0 will help the user in renewing data in related CRM modules or third-party applications by executing simple program scripts. With Functions a user can program scripts using Deluge and assimilate them with workflow rules, related lists, custom buttons, schedules, etc.
Developers' Migration Checklist
1. Check whether you need to migrate your user's access tokens or re-authenticate with a new permission.
2. Familiarize yourself with the new V2 syntax. V2 APIs accept only JSON input.
3. Familiarize yourself with the changes in field attributes and field formats.
4. Take a look at the API methods available in V1 and how different they are in V2.
5. Update the error handling in your app to utilize v2 errors with proper status codes.
6. Take a look at the Integration tasks and how to use them in your Deluge script for V2 APIs.
Upgrade to Zoho CRM API V2.0 with these steps -
1. Outsource the operation to specialised Zoho developers who will reduce a business' burden by chalking out an action plan with an all-encompassing impact assessment of CRM functionality.
2. Also make sure the developer accurately defines the project allocation industry-wise. This will expedite the migration process and allow the developer to use the same set of tools and protocols needed for that specific industry domain.
The Zoho developer takes on from here:
3. A system audit is essential to review all existing scripts, workflows, and CRM functionalities using Zoho's API interface.
4. Under execution of the transition, authentication methods, field names, date formats, and Zoho API methods have to be updated. Blueprint and Layouts functionality can be added to the API code (API V2.0 enables this functionality) while reviewing it, if required.
5. For a smooth and successful transition testing the changes is essential. The developer has to ensure that the transition is made without affecting the existing functionality and stored data. This phase includes
– Testing everything to ensure the flow and note the test cases
– Script Migration
– Test everything again to validate the new Zoho API 2.0 code and to ensure zero loss of functions and replication of noted cases
For maximum user efficiency and an immaculate upgradation process, reach ADVANZ101 for a free consultation. Our Zoho CRM specialists in the US and elsewhere will help you draw the maximum advantage from the new Zoho API, especially the ones best suited for your business.
Information courtesy: Zoho