If you want to flawlessly manage customer interactions and overall client relationships, you need to employ a CRM solution or Customer Relationship Management system. A CRM system or solution ensures that you stay ahead of the competition by consistently carrying out relevant interactions with both existing and prospective customers with operations and marketing activities running smoothly in the background – this is the primary objective of a CRM solution.
Businesses of any scale can benefit immensely in terms of smooth sales management, strengthened productivity, and seamless and consistent business relationships, If they integrate a consistently performing CRM system well with their existing processes and manage it effectively.
If we talk about managing a CRM database, it is a continual process that is resource extensive, high-priced, and requires skilled technicians to maintain it along with making essential modifications and updates. The significant factor is that CRM projects are basically centered on some orthe other form of data migration that finds its roots in legacy systems that are being gradually phased out with novel and digital infrastructures, and sometimes even from one CRM platform to another.  This environment puts CRM Data Migration Services in the spotlight and makes it indispensable for the migration to be carried out in a testable and repeatable format for the desired outcome.
The aforementioned ideal way of executing CRM data migration can be carried out with the following TIPS –
1. Phase before CRM Data Migration
Expel and tidy up obsolete records; have a backup strategy in case of situations where you would require to restore these records; understand the new system and create a list of functions you would want to be addressed by the new CRM system; prep your teams with due training to bring them on the same page in terms of familiarisation with the new solution and prepare an integration  roadmap and explain each team member its role.
2. Initial Data Quality Assessment
Make sure to check data as it enters the system and keep an eye for missing data and ensure it is added if there is any. Ensure the removal of duplicate records and maintenance of current records. Avoid governing data in silos and the usage of purposeless metrics.
3. The Key is Data Mapping
There is never enough of data analysis and testing that one can do, therefore be at it consistently. Clarify and define technology and organizational KPIs and make use of model-driven engineering to pursue all tasks.
Now whether you are carrying out Data Migration from Zoho to MS Dynamics or other platforms (or the other way around) you shouldn't leave data migration as a retrospective action and definitely not assume that it's going to be simple.
4. Do not forget the development of migration scripts
Break down the legacy system use cases, prep users for forthcoming changes, frame a target CRM with the right structure, determine cutoff dates and record field exclusions, and keep reviewing data maps at a business level. Don't leave data migration only for the tech team and skip migrating the historical information.
Are you Looking for a Data Mirgration services?
5. Test Migration without fail
Identify entities, figure the order of entity validation, and have a field to field mapping sheet at hand. Try and avoid user disruption during migration and do not forget to preempt glitches that may surface during migration of the live system.
6. Data Cleanse - Absolutely!
Carry out an in-depth analysis, double check the data, make use of better templates, and ascertain the cleanup time and implement it accordingly. Don't lock down the system to avoid bad data and don't de-duplicate without team verification.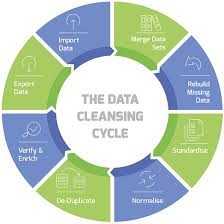 Image Courtesy: DataEntryOutSourced
7. Always review the source and target CRM
During live data migration from SuiteCRM to MS dynamics to any CRM platform, diligently spend time on data mapping, meticulously compare the CRM structures, develop and hone migration tools and perform some test runs. Don't miss out on any custom fields in the source CRM and make sure the data is validated. Check out for the presence of archive data in the UI.
8. Database Tallying from source server to the destination server
All database tables present on the source server have to be present on the destination server and they need to be registered in Plesk and those database tables need from the source server need to be compared with the destination server to prevent data loss.
9. Check for system users
System users present on the source server have to be present on the destination server and every system user log through the destination server is conducted via FTP and SSH.
10. Post Data Migration Clean-up
Post data migration cleanup is necessary and it involves running scripts against records and sometimes manual record re-duplication is also conducted. For any scale/form of Data migration services be it from ZOHO to Salesforce or from other leading platforms to another across the globe, we have a qualified team to steer you through.